The Open Source Geospatial Foundation (OSGeo) greatly appreciates and welcomes the contributions of the global student community. OSGeo Student Awards are given to acknowledge the excellent work of students.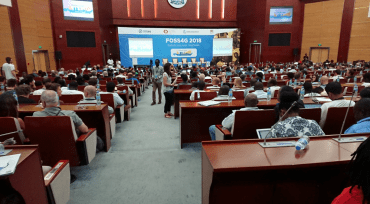 We are pleased to announce OSGeo student award for the best student presentation at FOSS4G 2018 (250 USD) to Stephen Oloo for his work on "Mapping livestock keepers and their herds across Africa based on households' survey" . Stephen Oloo is a part time student at the University of Nairobi, Kenya, undertaking a masters degree in Geographic Information System. He also works at the International Livestock Research Institute (ILRI) as a Spatial Data Analyst where he is involved in developing GIS and remote sensing products used for modelling livestock distribution, forage monitoring, rangelands analysis, and mapping of livestock resources.
We are pleased to announce OSGeo student award for the best student poster presentation  at FOSS4G 2018 (250 USD) to Samy Katumba for his poster titled "Spatial statistical analyses to assess the spatial extent and concentration of multidimensional poverty in Gauteng using the South African multidimensional poverty index".  Samy Katumba is a researcher at the Gauteng City-Region Observatory (GCRO). He is also a PhD Geoinformatics student at the University of Pretoria (South Africa). Samy is currently working on how to use spatial statistical analysis, spatial econometrics methods and machine learning algorithms for analysing and visualising socio-economic data and phenomena such as poverty, inequality, racial and other forms of diversity or segregation within urban spaces. Samy's interests and areas of research include spatial statistics, spatial econometrics, Web GIS, mapping, geospatial data visualisation, spatial analysis, geospatial data mining, machine learning and online geo-information retrieval. He has a master of science degree with specialisation in Geoinformatics from the University of Pretoria (South Africa).
Congratulations to Stephen Oloo and Samy Katumba for winning the OSGeo Student Awards at FOSS4G 2018. We also thank all students who presented their  work at FOSS4G 2018. The jury members for the student awards were  Rafael Moreno, Serena Coetzee, Victoria Rautenbach, Franz-Josef Behr, Marco Minghini , Maria Brovelli and Suchith Anand.
Our special thanks  to Maria Brovelli, Serena Coetzee and all members of LOC for their work and efforts to makes these students awards possible.