The marketing committee here with an update on the website/rebranding reboot initiative.
OSGeo has been the home of the open source geospatial community for over ten years. Over this time we have grown and matured as the industry and ecosystem has evolved. In 2016 the OSGeo board held a face-to-face meeting highlighted the website tool to improve communication. In 2017 the marketing committee was given an exciting initiative to rebrand and redesign OSGeo and our affiliated properties.
The website/rebranding project is slated to produce 3 sets of output:
An updated set of branding for our organization and its sub-brands which will be delivered as a standard online organizational brand style guide;
A new website theme and focus heavily oriented toward onboarding new users (providing guidance toward an appropriate set of software for their needs);
A set of digital templates and collateral for print marketing materials.
For details check the Expression of Interest document and OSGeo project page. You can track our weekly meetings online.
Sponsors: This initiative is funded by OSGeo with the help of sponsorship – thanks to our key sponsors GeoCat and Boundless for helping make this possible.
Website
The focus for may has been focused squarely on the website design, as the visual look-and-feel transitions from wireframe diagrams into solid visuals.
Jeffrey Johnson (OSGeo) and Pim Tebbens (Get Interactive) have been steadily refining how things work. With a couple key changes being made over the course of the month. Initial visuals took the "compass shapes" as visual interest triangles. The result looked fun, but drove Jeffrey crazy whenever the compass points did not line up with the cardinal directions (there is a reason they are called compass directions!)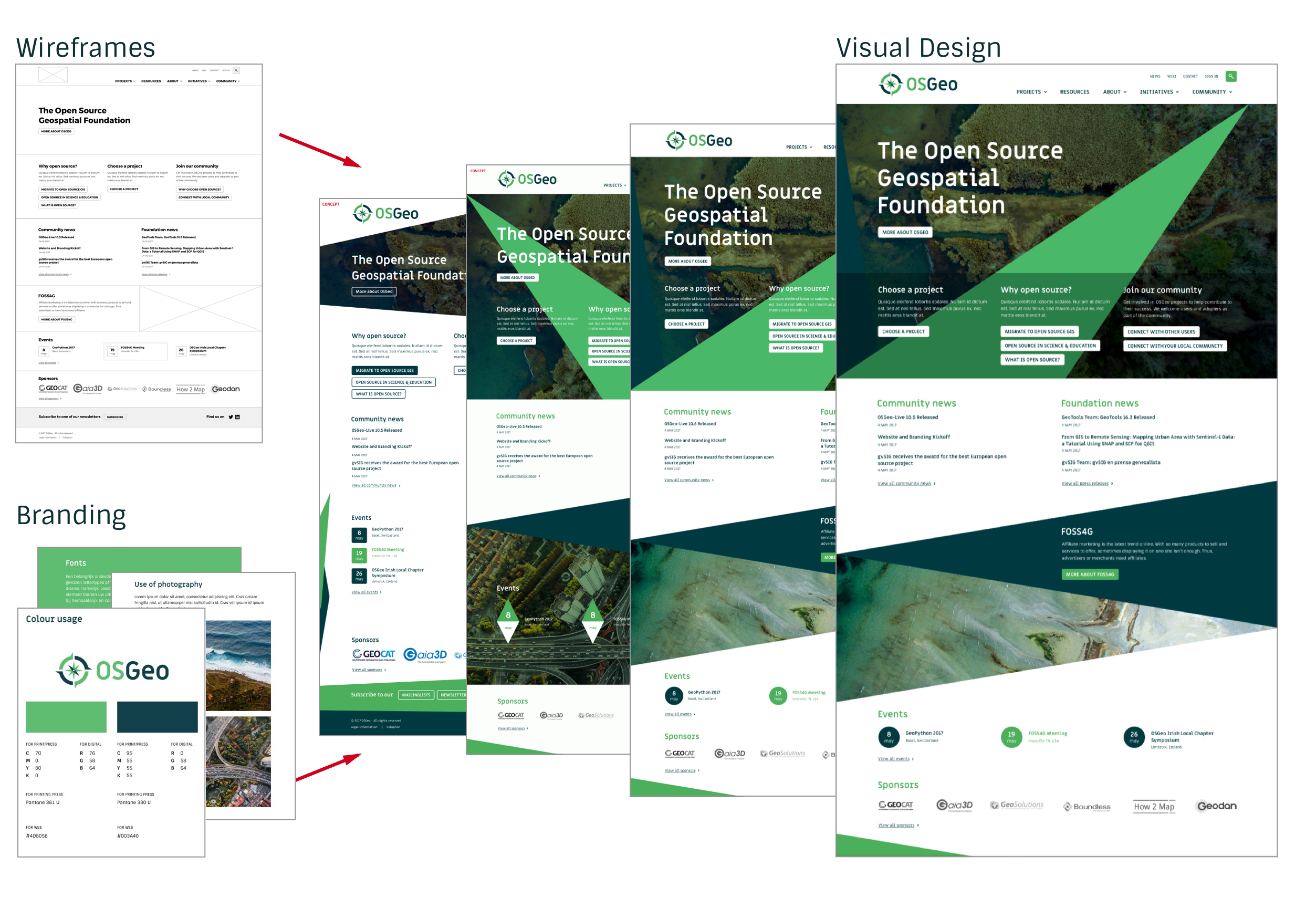 We are really pleased with how the pages for each project look. There is a lot to like from the use of a laptop to frame screenshots, to the clear presentation service providers who are core contributors to a project.
What to Expect: Next month the beta website starts taking shape, expect calls for content.
OSGeo Board: Thanks for starting the process by gathering information on friends and partners. If we can reach out to friends such as OpenStreetMaps to check content it would be appreciated. Our list of partners may need review (the relationship with the OGC is set to expire in 2017.)
Project Steering Committee Members: We will be reaching out to you in July and August for content. You can reach us in person at code-sprints at foss4g-europe and foss4g boston. Long term there are some good ideas about recording this information once using about.yaml and reusing for the website, handouts and OSGeo Live. We would also like ask you about identifying "core contributor" service providers in your community.
System Administration Committee: On the infrastructure side Get Interactive has started setting up a server for the beta website, but we have failed to coordinate with Harrison during June. We will need to make alternate plans in July and August.
Branding and Collateral
Last month the OSGeo logo and branding elements were finalized, in June we have started applying these assets to marketing collateral, working with the OSGeo Board, Marketing Committee and GeoForAll on content.
The production of an A3 brochure has taken the most time, trying to keep a focus on GIS professionals as we explain what OSGeo has to offer in terms of software, opportunities and support. The brochure can be filled with information sheets, specific to projects or initiatives a visitor is interested in.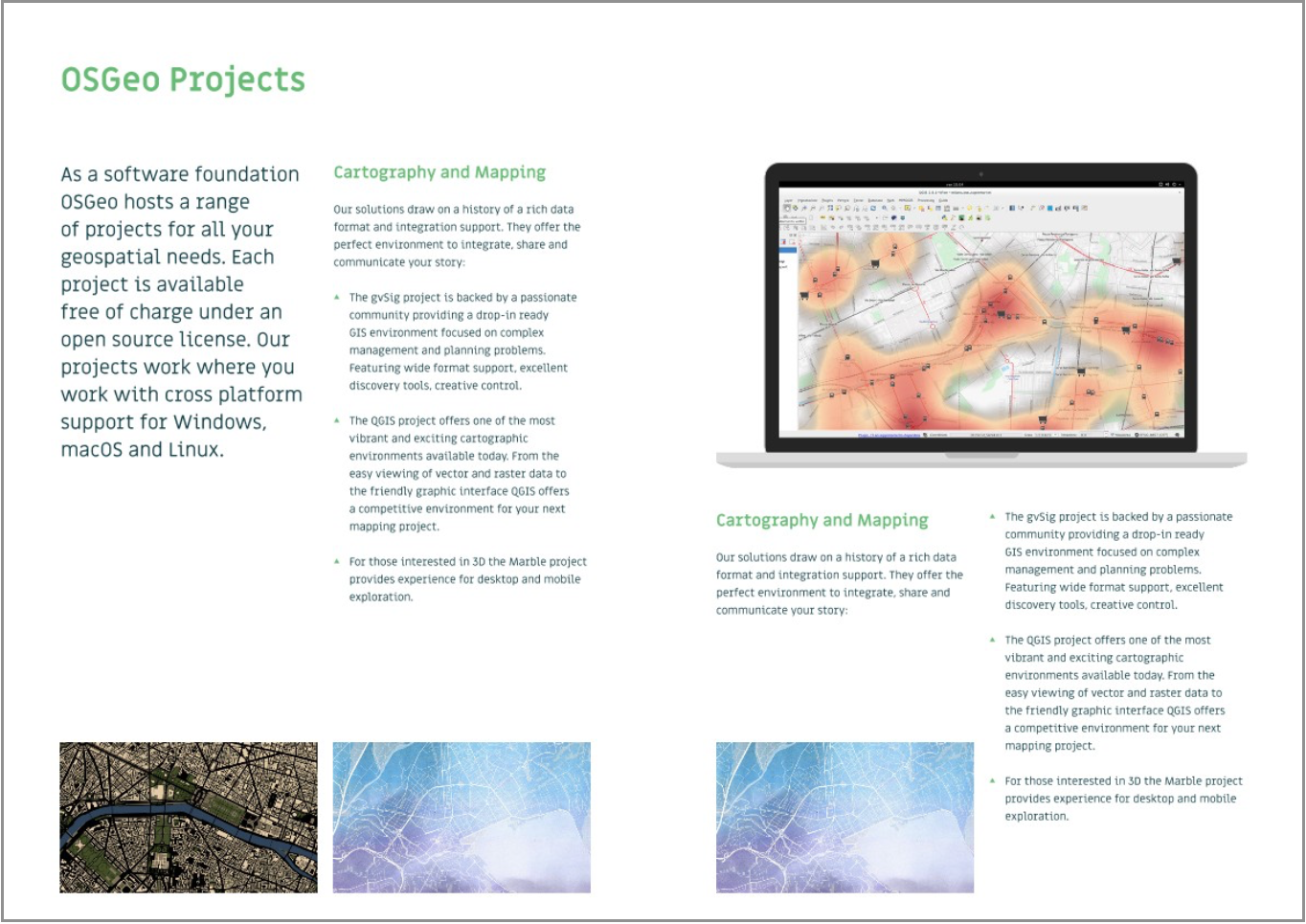 I was able to supply the first draft of content, relying on Marc and Cameron for their iron-fist "what are you trying to say" review style. Working with my colleague Torben we set on a great way visually show the difference is between "just open source" and what we expect from graduated OSGeo projects.
The other group that worked incredibly hard was the GeoForAll team. Nickos Lambrinos really turned the corner on content creation supplying a clear list of what GeoForAll offers. Thanks also to Daria Svidzinska pulled together a map GeoForAll lab locations. A information sheet for OSGeo and one for GeoForAll have been produced for early-adopter printing deadline as shown below.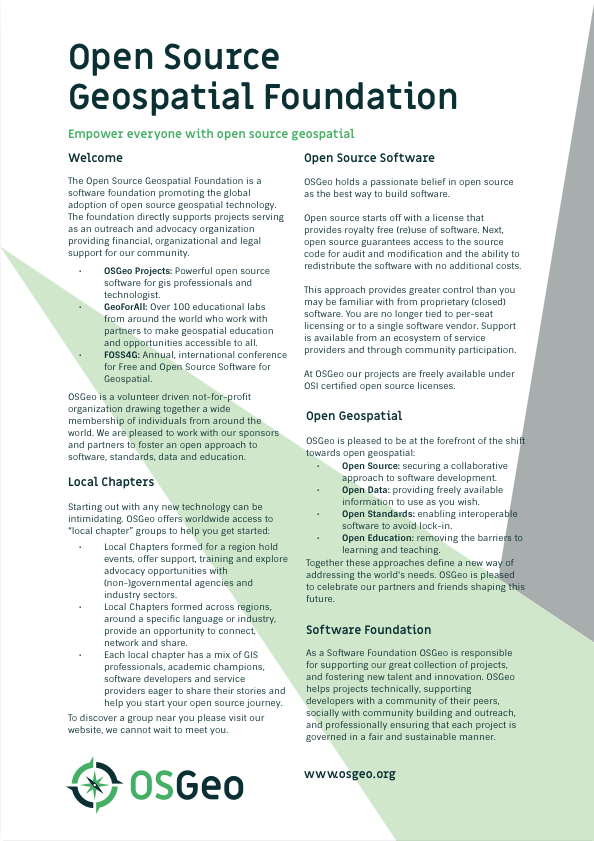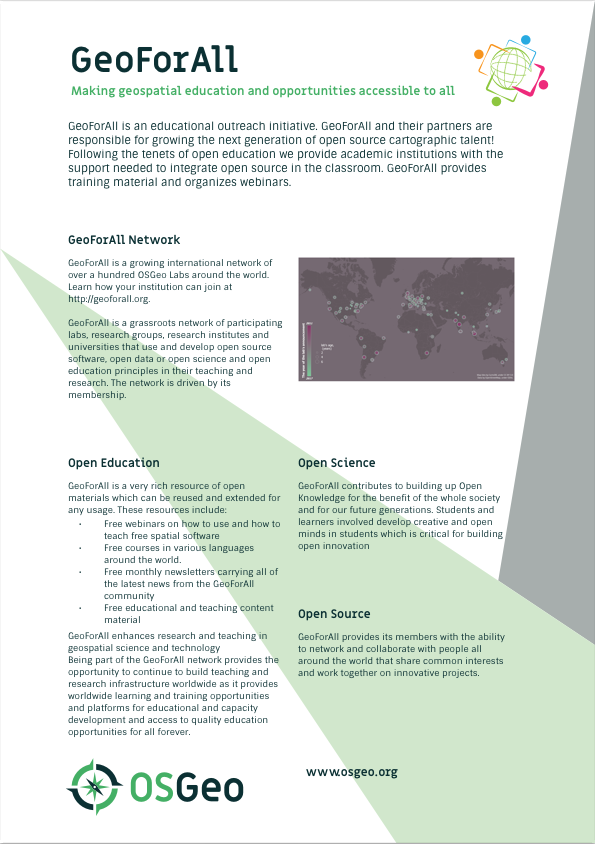 This material is being staged now into an A3 Brochure for July events.
Local Chapters:It will take some work to update logos to fit in with the new branding. Please have a look at branding in July, we depend on your feedback, challenges and questions to refine the branding guidelines.
Committee Chairs:f you would like an information-sheet available at events please reach out to the marketing committee with desired content. We would be pleased to help.
GeoForAll:Please review the draft information-sheet above and work with Nickos, Helena and Daria refine our story.
Presenters:A draft powerpoint template is available if you would like to make use of it. The instructor notes has instructions for using your own imagery. If anyone handy with LibreOffice we could use a hand doing the format conversion.
Early Adopters
It is hard to wait for the collateral to be ready, and several early adopters are already making use of the drafts produced above.
GeoForAfrica: Thanks to Daniel Nanghaka for reaching out to the marketing committee and trying out the singe-page handouts for OSGeo and GeoForAll. If you are at the event please take photos we would love to see how the rollup banners look.
OSGeo-Live: Thanks to the OSGeo Live team for both an early run at applying branding and a go at adapting the new logo for the project. We look forward to seeing the result in the next release candidate.

Working Together
If your organization is in position to financially support this activity please check our webpage for details. Several sponsorship opportunities are available: Key sponsors are acknowledged in each blog post and update. Sponsor logos are used in our wireframes. And Supporters are thanked publicly in a monthly blog post.
Thank our community volunteers mentioned above (and anyone I missed) for helping with content.
Get Involved at FOSS4G
We are looking forward to meeting you the following events:
FOSS4G Europe: Please join us at the OSGeo booth and attend the "website rebranding" presentation. Marketing committee members will be taking part in the code sprint, and badges to give away to those helping out.
FOSS4G Boston: The website/rebranding will be highlighted throughout the conference at the OSGeo booth, presentations and most importantly during the code-sprint for training sessions with Get Interactive. We ask that projects and committees take part in this important activity (we are paying for it please take advantage of the opportunity).