In 2022, we had 37 nominations and all were accepted. This year, 225 votes were casted. It was a lower number than last year (230 in 2021, 304 in 2020, then 209 in 2019, 276 in 2018 for comparison). The OSGeo board approved the new members in November 2022.
We are happy to announce that the following people were accepted as OSGeo Charter Members:
Bianca Federici from Italy
Seabilwe Tilodi from South Africa
Tomas Holderness from United Kingdom
Besfort Guri from Kosovo
Markus Mayr from Austria
Darafei Praliaskouski from Belarus
Daniel Baston from United States
Lars Schylberg from Sweden
Hans van der Kwast from Netherlands
Federica Gaspari from Italy
Torsten Friebe from Germany
Amy Burness from South Africa
Stefan Blumentrath from Norway/Germany
Krishna Lodha from India
Hannes Reuter from Luxembourg
Johannes Kröger from Germany
Simeon Fitch from United States
Francesco Frassinelli from Norway
Wladimir Szczerban Llatas from Spain/Venezuela
Paul van Genuchten from Netherlands
Jordi Escriu from Spain
Raymond Nijssen from Netherlands
Lorenzo Stucchi from Italy
Nestor Gustavo Lopez from Argentina
Melvin Lizano Araya from Costa Rica
Walter Shilman from Argentina
Tatiana Pará Monteiro de Freitas from Brazil
Ben Hur Pintor from Philippines
Marian Neagul from Romania
Harissou Sant-Anna from France
Harry McCormack from United Kingdom
Mariana Gasparotto from Argentina
Emma Hain from Italy
Claudia Vitolo from Italy
Julien Moura from France
Stefanie Lumnitz from Italy
Ivan Ivanov from Bulgaria
You are welcome to find out about our new members at the following page https://wiki.osgeo.org/wiki/New_Member_Nominations_2022
See the full list of the OSGeo Charters member and find a link to every profile page there /about/charter-members/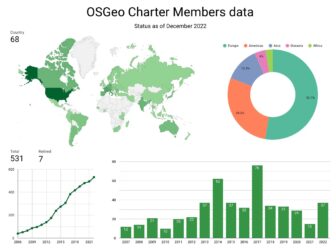 OSGeo now has a total number of 520 members from 67 countries (you can access the interactive version here).
Thanks a lot to Jorge Gustavo Rocha, Vicky Vergara and Vasile Craciunescu (2022 OSGeo Elections CROs) for organizing the OSGeo Election 2022.